Strings for Tapping instruments
Available qualities
We are happy to provide the students with quality strings, originally selected with the help of Traktor Topaz.
Daniel has redesigned the gauges in order to provide his students with the best feeling.
They can fit most types of tap guitar.
Please check the distance between the nut and the bridge before any purchase.
Pay attention to the fact that some instruments have a larger scale, with the result that the wounding will stop before the nut.
The Chapman Stick tm of the last generation belong to this category.
Contact-us if you have any doubt.
Overall length is 45″ (115 cm).
Winding length (mesured from the ball end, not from the bridge) is 36.5″ (93 cm).
We have now the bass strings (gauge over .060) available with exposed core (7cm) at the ball end.
The normal pack contains 16 to 19 strings. With these you can fit most types of tuning.
If you wish to know more about the various tunings in usage on the tap-guitar please consult tunings.
We provide two metal qualities for the wounded strings : "Mello Tone tm" or "Ringing Bell tm" . The "Mello Tone" is Nickel covered, which gives  a sweet tone. It is also sweet to the frets and has a brilliant silver color. The "Ringing Bell" is pure stainless quality and has a brilliant sound, harder to the frets, and has a darker iron color. As the 'Ringing bell' contains no Nickel it has a more powerful  magnetic output.
We provide also three different gauges sets: 'Sweet Fingers' which is light, and has  expressiveness in the melody strings. It needs experts fingers, good ears and is specially designed for musicians  who want to render a melody with microtonal adjustments such as bending, blues or Indian classical.  "Medium Fingers" is fairly resistant to the finger's pressure, though allowing some bending. Specially designed for beginners, or for experimented players who like to play chords.  'Power fingers' offers a maximal magnetic output, resistant to the fingers, stays on the pitch whatever the pressure,  fits the heavy instruments.
All strings sets are custom-made for us and fit both the crossed hands and the uncrossed hands disposition of strings.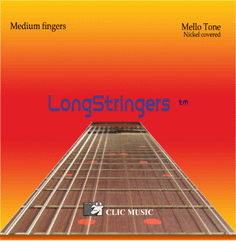 Article
Gauges
Price
Description
Quality "Mello tone" Nickel
 W is for Wounded. Otherwise strings are plain
Light Gauge 'Sweet fingers'
008 (2), 009 (2), 010,
012, 013, 016,
W022, W025, W028,
W034, W040, W044,
W065, W095
45€
For double regions bass/melody instruments.
Light tension for maximum expressivity.
Bends easy, but sustains less
 Medium Gauge 'Medium fingers'
009 (2), 011 (2), 013,
014, 016, 018, W026,
W028, W030, W032,
W038, W048, W060,
W080, W110
46€
For double regions bass/melody instruments.
Medium tension, a good compromise between light and heavy gauges.
Easy bendings and good sustain.Available with exposed core (7cm) at ball end.Availble entirely wounded from ball to end to fit longer scale touch boards.
 Heavy Gauge 'Power+ fingers'
010 (2), 012 (2), 013 (2),
016, 019,W026 (2),
W030, W036 (2), W048 (2),
W052, W068, W090, W120
63€
For double regions bass/melody instruments.
Small bends. Heavy tension, high volume output and punchy dynamics.
Easy to stay in tune, preferred by many jazz players.Available with exposed core (7cm) at ball end.
Tunings
Tuning bass in fifths-melody in fourths (similar to the Standard tm  tuning of Stick Enterprises, developped by Emmett Chapman 1968)
Sweet fingers (Regular gauge, easy to touch, expressive bass, easy to bend melody.): Six Melody strings (gauges  in 1/100 of inches):  08 (2 units), 09 (2 units), 12, 16, 25W, 34W. Six Bass  strings (gauges 92W, 65W, 40W, 22W, 13, 10).
Medium fingers (medium gauge, straight but expressive melody and bass) . Six Melody strings (gauges  in 1/100 of inches):  09 (2 units), 11 (2 units), 14, 18, 27W, 38W. Six Bass  strings (gauges 110W, 80W, 48W, 32W, 28W, 16).

Power+ fingers (resists to the pressure, maximum output, fits heavier instruments) Six melody strings (gauges in 1/100 Inch): .010 (2 units) .013 (2 units) .019 .026 .036 .048  Six bass strings  .120 .090 .052 .030 .016 .012
Tuning bass in fourths / melody in fourths  (as played by Daniel Schell, Wolfgang Daiss and others)
Sweet fingers  (Regular gauge, easy to touch, expressive bass, easy to bend melody): Six "melody" 08 (2 units), 09 (2 units), 12, 16, 25R, 34R.   Six Bass strings : gauges 92R, 65R, 44R, 28R, 22, 13.
Medium fingers (heavy gauge, straight but expressive melody and bass) . Six Melody strings (gauges  in 1/100 of inches):  09 (2 units), 11 (2 units), 14, 18, 27W, 38W. Six Bass  strings (gauges 110W, 80W, 60W, 30W, 16, 13).

Power+ fingers (resists to the pressure, maximum output, fits heavier instruments) Six melody strings (gauges in 1/100 Inch): .010 (2 units) .013 (2 units) .019 .026 .036 .048  Six bass strings  .120 .090   .068 .048 .036 .026