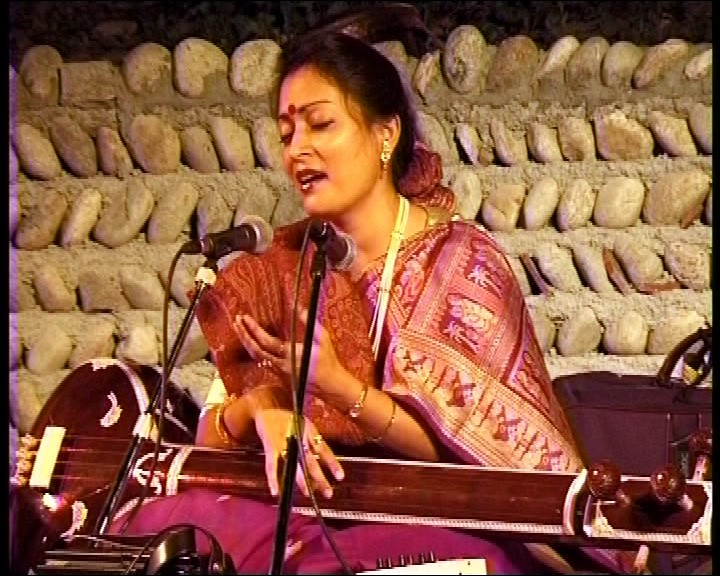 Sangeeta Bandyopadhyay, a familiar name in the realm of Indian Classical Vocal in India as well as abroad, has already made her presence felt in the world of music. She is a vocal exponent of Patiala – Indore Gharana.
The eldest daughter of internationally famous Tabla maestro, Pandit Sankha Chatterjee and Late Sujata Chatterjee, Sangeeta has been groomed in a highly musical family, and therefore, had the unique distinction of learning from the great masters.
Sangeeta, has learnt from Late Sangeetacharya Pandit Chinmoy Lahiri of Kolkata from a very tender age of nine and from Ustad Munawar Ali Khan of Patiala Gharana (the worthy son of the Great Ustad Bade Ghulamali Khan) for a long time and since last twelve years she is under the musical supervision of her father-in-law Pandit Kamal Bandyopadhyay of Indore Gharana, a worthy and the most authoritative disciple of the Great Ustad Amir Khan.  She  is also very much privileged to come in close contact  with great maestros like, Ustad Keramattulla Khan, Ustad Allarakha Khan, Ustad Vilayat Khan, Pandit V.G.Jog, Pandit Kishen Maharaj,  to name a few and to receive their blessings and priceless musical advices.  She is  the most fortunate disciple to perform together onstage with her Guru Late Pandit Chinmoy Lahiri at the tender age of fifteen.
Sangeeta is gifted with a very tuneful voice equally at ease over the total spectrum of more than three octave. Her knowledge & virtuosity combined with devotional approach and a strong penchant for perfection, gives her a unique style of her own and an impeccable mastery over the Classical genre, which is always reflected in her mellifluous rendering of Khayal, Thumri and Bhajan. Her specialisation lies in rendering subtle and intricate movements of notes with strong emotion and perfect "Ragdari" in Vistar, stunning rhythmic variations in Bat & Boltan, fast and wide variety of effortless Tan & Sargam highlighting all the forms, such as Murchana, Alankar, Sapat, Halak, Gamak, Meerkhand etc.  She has successfully synthesised the traditional genre of Indian Classical Music with her own individuality, and as such, it is no wonder that she has enthralled the music lovers all over the world from a very tender age and still continuing in that endeavour.
Besides her illustrious musical career Sangeeta holds a Bachelor's degree with Hons, in Economics from Jadavpur University and a Masters degree in Music from Rabindra Bharati University, Kolkata. She is an "A" Grade musician of All India Radio and Television. Since last fifteen years Sangeeta has been performing in India and abroad at very prestigious conferences and concerts with great success. She has also performed at a number of Indo-Jazz fusion with several reputed Jazz musicians of Europe resulting in quite a few successful fusion CDs (released from Europe) with contemporary European musicians.
She has three international CD release namely, "Shruti", and "Bhakti" from Felmay (www.felmay.it) and "Sangita" from Amiata Records (www.amiatarecords.com),  and two national CD release "Prarthana" and "Parampara" from Cosmic Melody to her credit.