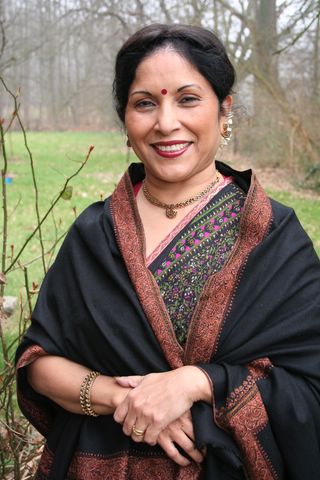 Gauri Guha (photo Laura Wester, C Clic Music)
Gauri Guha is vocalist in the Indian classical khayal style. She has a remarkable repertoire of pure classical pieces as well as lighter genre such as thumri and bhajans. She obtained first class in Sangeet Visharad, (Bachelor of Music) from Bhatkhande Sangeet Vidyapith, Lucknow, India. then an M.A. degree in Bengali Literature from Jadavpur University.
Gauri has been studying Hindustani classical music from a very early age and still considers herself a student. In the past she has been a disciple of Pandit A. Kanan and Malabika Kanan of the Sangeet Research  Academy in Calcutta.
Currently, she studies with the world-renowned Pandit Ajoy Chakrabarty, who is a resident teacher of the Sangeet Research Academy. She shares her time between Canada where she teaches, and Kolkata where she still studies and brings her art to perfection with renowned masters. Gauri was sent by the Government of India to the Indian Cultural Centre, Indian High Commission, Guyana, South America, as a Cultural Officer/Music Teacher for 3 years.
Gauri has performed extensively in North-America, Caribbean, India, as well as in Europe. In Belgium she is a regular teacher at the Sangit Academy and at the summer seminar of the "Académie d'été de Wallonie". The Karo Trio, with Daniel Schell (tiptar).  and Sandip Banerjee (tabla) has already invited Gauri for concerts and Festivals in Europe. Gauri has 8 albums to her credit. A CD was produced at the Lille Festival, France, where Gauri sang at a movie called The Hindu Tomb by Fritz Lang. Currently Gauri is working at the "Gauri Guha songbook" with Daniel Schell