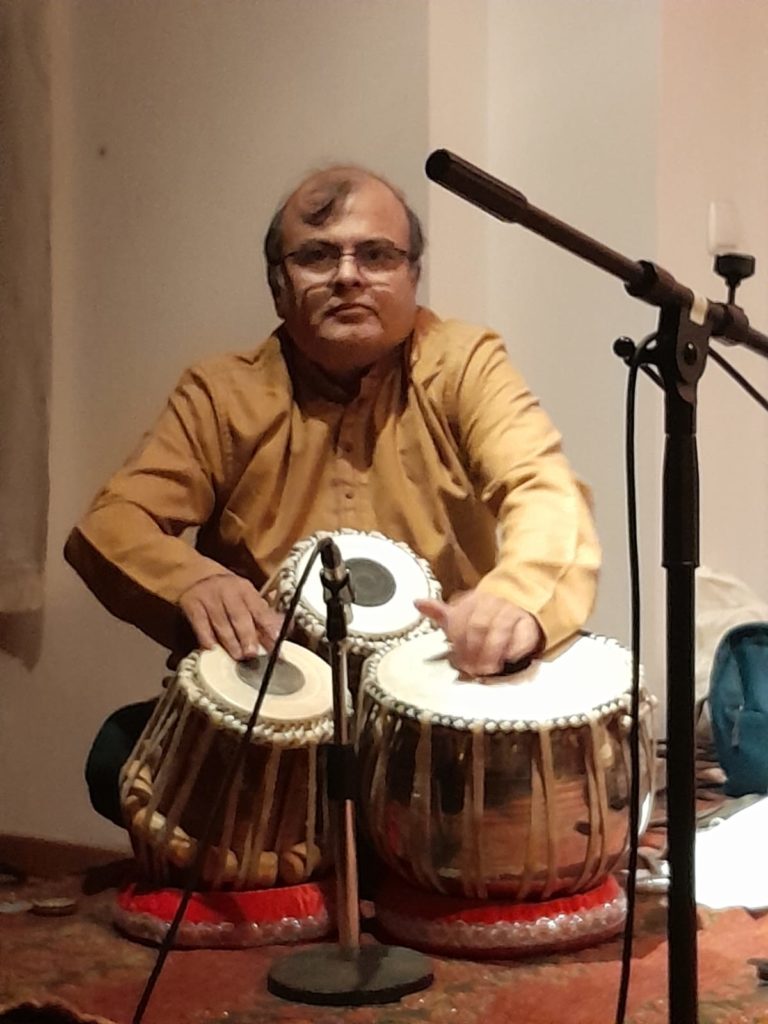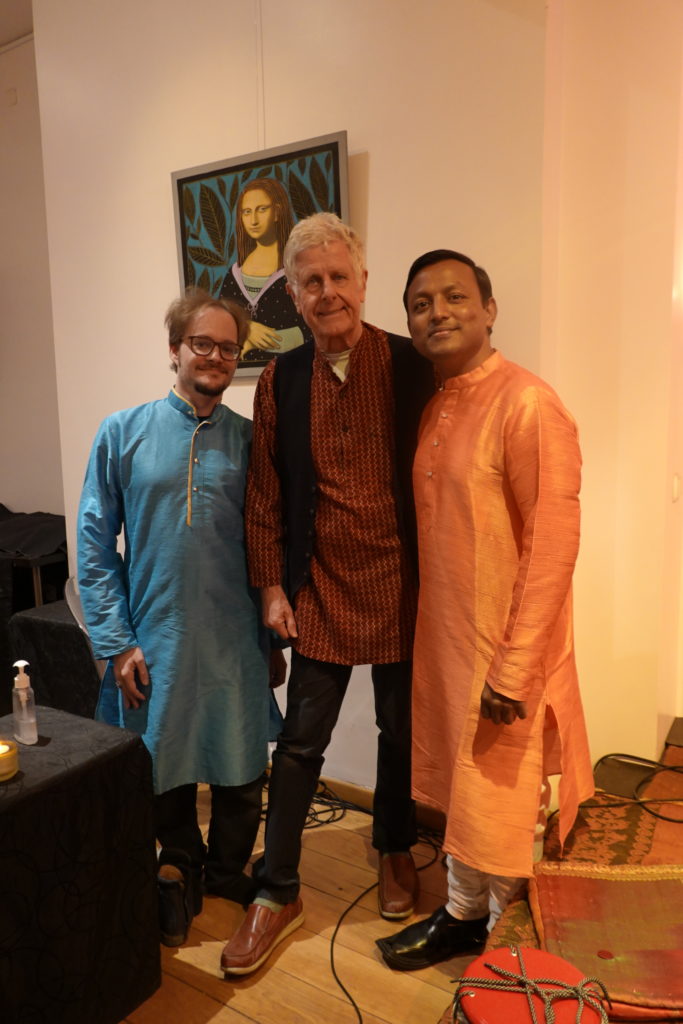 Karo Trio
Wim de Winter sarangi – Daniel Schell – tiptar (tap-guitar)  – Sandip Banerjee – tabla, percussion
The musicians have all studied  Classical Indian for years. They decided to use their experience to open a new horizon. Respecting the basic framework of Indian classical, they  incorporate  elctronics and all kinds of new harmonic forms and melodic improvisation .
The compositions of Daniel Schell, are in direct continuation of the Karo concepts which he used in his previous opus with Ensemble Karo. He uses a MIDI connected two-regions tapping guitar.
Wim de Winter uses the sarangi connected to electronic devices. His musical approach comes from Indian masters and vocal music, and goes to new music concepts.
Sandip Banerjee uses the tabla as well as electronic percussion in all sorts of exploded rhythmics.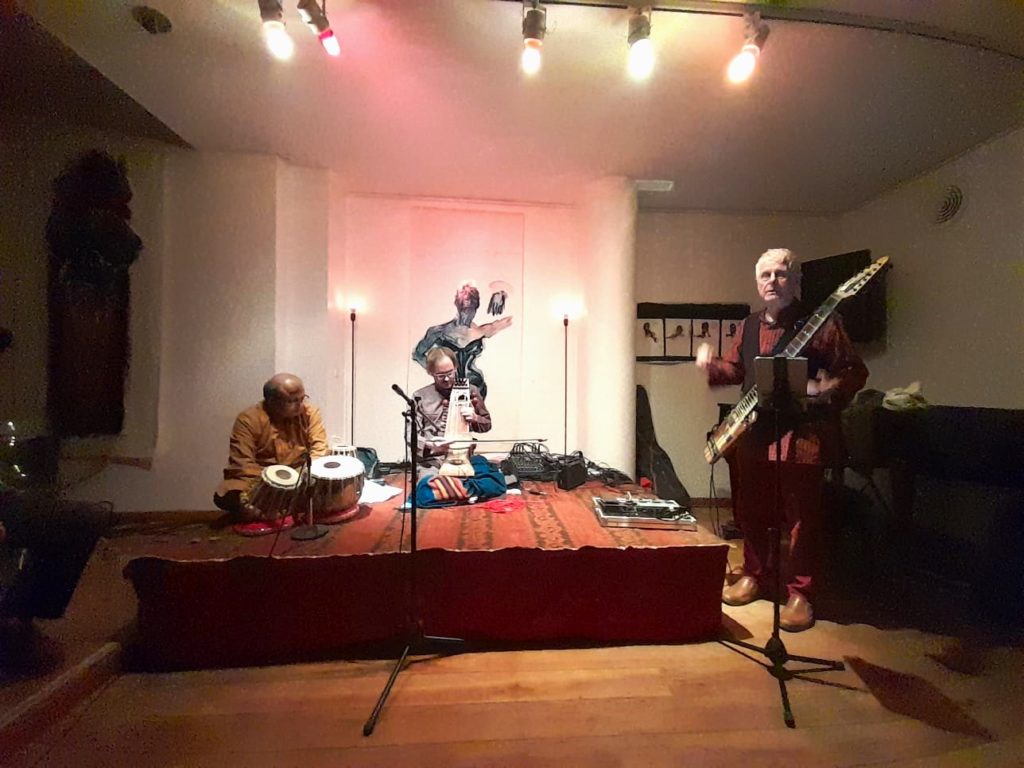 From L to R: Sandip Banerjee , Wim de Winter, Daniel Schell
Listen to Karo Trio album : Key of All Secrets on Bandcamp  Key of All Secrets
***
Previous forms of the Karo Trio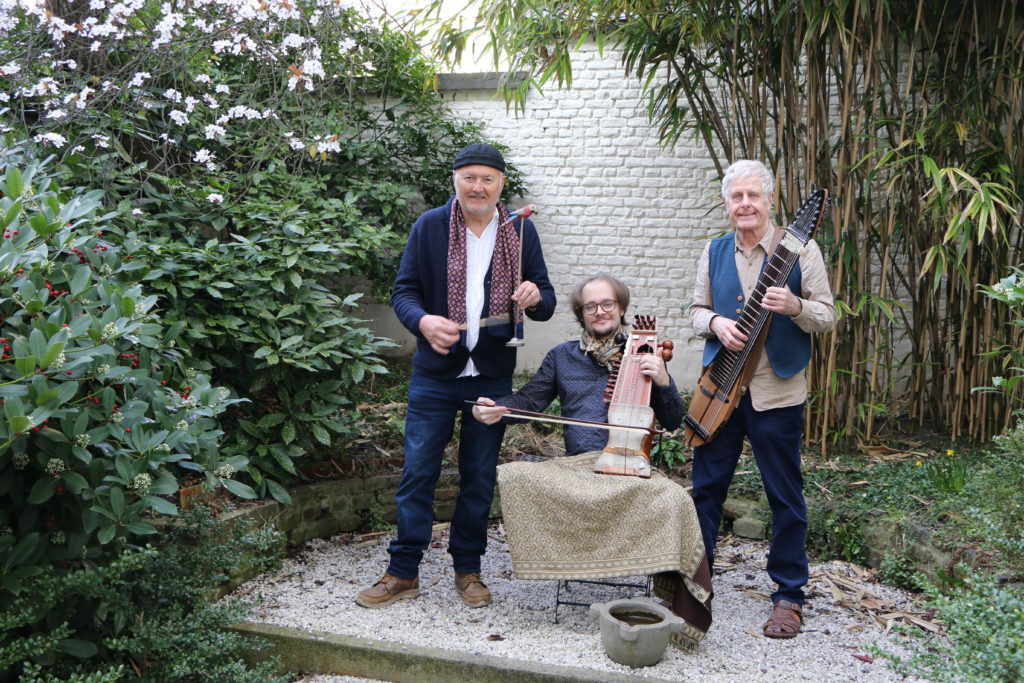 Jean-François Jones Jacab, Wim de WInter, Daniel Schell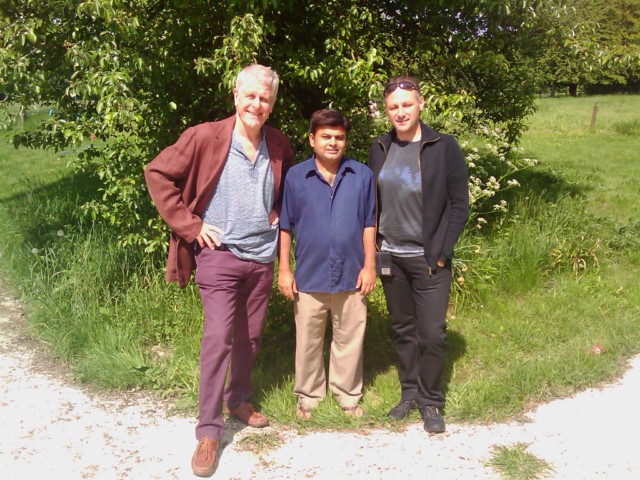 de gauche à droite:
Daniel Schell (tiptar), Sandip Banerjee (tabla), Zoltan Lantos (violin)

Le Karo Trio est une émanation de l'Ensemble Karo, mais où l'improvisation joue un rôle plus important. Du point de vue de la composition, des principes harmoniques "mathématiques" comme le tuilage en "carreaux" sont appliqués à toute une série de sources musicales: modes divers, dont ceux de l'Inde, mélodies antiques, mélodies du folklore etc. le tout sous une forme rythmique variée et sautillante très caractéristique.
Le Karo Trio prépare une série de projets instrumentaux: les "Karo Trio Improvisatore". Ils sont destinés à développer la faculté d'impoviser chez l'instrumentiste classique. L'écriture est mélangée à des moments d'improvisation. Les pièces suivent plus ou moins la forme classique en usage en Inde du nord: sections de tempos allant en s'accélérant du très lent au très rapide, modalités et dessins mélodiques à respecter, cycles rythmiques et ornements spécifiques.
La rythmique est assurée par Daniel qui joue de la tiptare et Sandip Banerjee aux tabla-s.
Video On YouTube
Schell-Banerjee invite Zoltan Lantos in Theatre Marni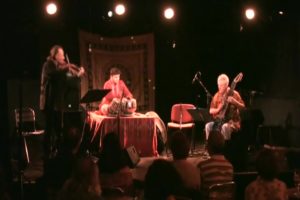 Discographie:
| | | |
| --- | --- | --- |
| L'Or du Fou – Fool's gold | ClicMusic |   |
| Karo Trio Delhi: " Live in Delhi" | Clic Music |   |
a