Daniel Schell (tiptar) – Sandip Banerjee (tabla)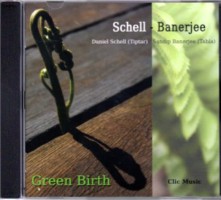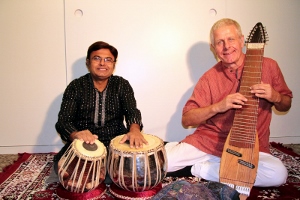 *Daniel Schell & Sandip Banerjee have just released their new album "Greenbirth", after 3 years of work in concert and studio.*
In a long association, lasting more then 15 years, this duet explores Indian classical music and draws it into the world of Western contemporary music. It uses a new instrument, the tiptar – or tap-guitar – in combination with creative rhythmic on the tabla.
The duet brings the music of selected classical and contemporary Indian composers, Bathkande, Pandit Jasraj, Ashok Pathak or Dhruba Ghosh, and of course Daniel Schell's, to a larger public of "New Music" lovers. Transcriptions of traditional Hindustani or Carnatic are made by Daniel Schell who composes under the 'Indian ear ' of Sandip Banerjee.
In their new album 'Green Birth' the duet has chosen to explore other ways. They play in the Hindustani style, but with much freedom. Daniel has signed the compositions, some originals, some arrangements of classical themes. Sandip reaches the frontiers of the tabla, by playing with new 'taala-s' and expressions. 'Green Birth' is entirely based on raaga bhim palasii, a famous afternoon raaga. For Daniel it meant the birth of a young plant in the warm moisture of the forest. The pieces are thought as a symphony, sometimes following the rules, sometimes wandering around, through harmonies. Daniel also created a raaga 'haraa aasha', 'green birth', which illustrates this atmosphere.
In their first album 'Night in the Mountain' the duet went through night raaga-s and melodies, by selected contemporary Indian composers as Dhruba Ghosh, or classical as Bathkande.
From the instrumentation point of view, this is really an important and pioneering attempt to bring the tiptar, (or tap-guitar) in the world of Indian music. The tiptar is a 12-strings sort of tap guitar tapped with the tip of the fingers and which allows therefore hands independency. Normally this is not an Indian instrument but one should not forget that India imported many occidental instruments as the violin or the harmonium. Furthermore there are now a number of mandoline and guitar players in India. The other rhytmician is Sandip Banerjee, a talented tabla player from Calcutta who has accompanied artists as Tejendro Majumdar, Bhuddaditya Mukherjee, Baran Kumar Pal and Kushal Das.
The duet has been accompanying Indian masters as Sangeeta Bandyopadhyay, Vasundhara Raturi, Kala Ramnath, Harsh Wardhan, Rohan Dasgupta or Purbayan Chattterjee. It invites frequently European guest artists as Ariane De Bievre, Dahlia Mees (violin) Wim de Winter (sarangi) or Fabrice de Graef (bansuri). Daniel and Sandip have collaborated in projects as the Sangit Summer Seminar and a new tabla method book.
On YouTube:
Daniel and Sandip : Night in the Mountain
Daniel and Sandip invite Zoltan Lantos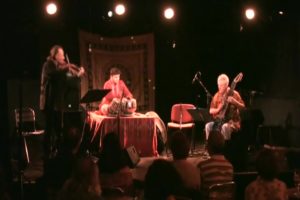 invite Mita Naga  
Daniel and Sandip invite Sunanda Mukherjee
Discography: CD:
Night in the Mountain , ClicMusic
Greenbirth, Clic Music
excerpts:     

Phytia

Greenbirth