Bharat Natyam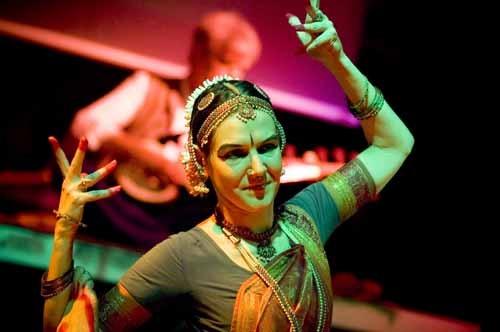 Karo Trio with the dancer Urvasi Nrytia
Urvasi Nrytia
The last project of the Karo Trio is about Bharata Natyam. This dance, describing facts of the Hindu mythology,  was performed since the antiquity in the temples of South India. It is now a recognised performance art all over the world. It has two remarkable features: The technical aspect involving  rhythmic synchronization of the feet with the percussion  and the expression-aspect with mimics and hand gestures. If the Bharata Natyam is relatively well known in the West, the music which accompanies it, however, is rarely performed live. Currently Daniel Schell works with the dancer Urvasi Nrytia in order to present a performance of high musical and choreographic interest.
Daniel made the transcriptions of the accompanying Carnatic music and arranged it for the Karo Trio
The Karo Trio with Urvasi Nrytia Bharat Natyam made a first apparition in the Festival of Ieper, and this summer at the Festival of Villers Sainte-Gertrude. From there on it has started to tour regularly in Belgium and France.
Karo Trio invites Urvasi Nrytia
Dance and choreography Urvasi Nrytia
Music: Karo Trio : Fabrice De Graef – bansuri, Daniel Schell – tiptar  Sandip Banerjee (tabla)  and Carlo Strazzante- percussions.
The Karo Trio also  plays with Ariane De Bièvre (bansuri), Pierre Narcisse (tabla) and Dahlia Mees (violin)