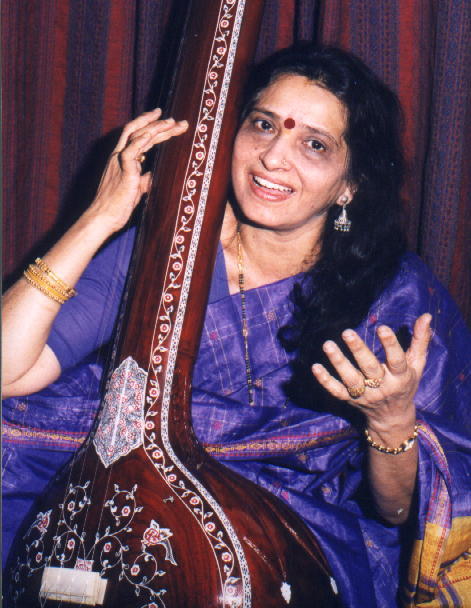 Shaila Piplapure's initiation into Hindustani Classical Music goes back to her childhood days.
Later, as a student of ShriRam Sangeet Mahavidyalaya, Raipur, Madhya Pradesh, she secured the degree of Master of
Music of  Khairagarh University, and was awarded the Gold medal. This graduation for Shaila was only a starting point of her future musical pursuits, which continued with her long and extensive tutelage under the well-known musician and musicologist, Pt. Ramesh Nadkarni. Shaila was fortunate to also receive guidance from Master Navrang. As a culmination of this training, Shaila is now an accomplished artist, and has made Khayal Gayan her forte. Reposeful Aalaps, intricate Taans and lilting Sargams characterize her concert renderings. Even while receiving the training, in the rare BHENDI BAZAR GAYAKI under her Gurus, Shaila was conscious to keep in mind the qualities of her own voice. And, to suit these voice qualities, she imbibed several intricacies and aesthetics from varied sources to enrich her music. In the process, Shaila has established herself as a vocalist with distinctive style of her own.
While Khayal Gayan is Shaila's forte, she is equally adept at singing the light classical varieties like Thumri, Dadra, Bhajan etc. TAPPA, which is one of Shaila's unique repertoires, is an integral part of her concert renderings. Pt. Jal K. Balaporia trained Shaila in Tappa genre. Concerts & festivals As an accomplished and well-known vocalist, Shaila has given her solo public performances at many places in India and abroad. She so far participated in several prestigious Music Conferences and Sammelans. In these Sammelans, Shaila shared the platform with top-notch musicians of India. Notable amongst them are, Pt. Hari Prasad Chourasia – at Surat,  Ustad Amjad Ali khan – at Tatanagar, Pt. Shiv Kumar Sharma – at Jaipur, Pt. Jasraj – at Calcutta, Pt. Rajan Sajan Mishra – at Nagpur, etc. Indian Embassy in Belgium invited Shaila to give her concert, as the cultural item from the country, to mark the celebrations of 50 years of India's Independence. Shaila Piplapure has also participated to important festivals such as the  Dover Lane Music Conférence or the Manmohan Bhatt festival of Jaipur.
Shaila participates regularly to the Sangit Academy and Summer Seminar in Belgium, where she performs and teaches.
She has performed in many European venues such as Espace Senghor of Brussels, Agora of Liège, 'Le Monde est un village' public radio broadcast of RTBF, The Night of Museum concert in the Museum of Ethnography in Antwerp.  She performs either with her indian group composed of  Srinivas (harmonium), Shantanu Shukla (tabla) , or with her European group made of   Daniel Schell (tiptar) et Sandip Banerjee (tabla).
The Bhendi Bazar family of style (gharana)
In North Indian Classical Music, several Systems are prevalent. Unlike many other music systems of the world, which are documented in the written form, Indian music systems are basically tradition bound, and, for past several centuries, have descended only in the oral form from a teacher to a student. A musician practising a certain system of music, is said to belong to that particular musical family, and is locally called to belong to that gharana. Amongst the contemporary ones, Bhendi Bazar is one such gharana of the North Indian Classical Music.
Three singer brothers, Ustad Chhajju Khan, Ustad Nazir Khan, and Ustad Khadim Hussain Khan, who lived in Bijnour town of Moradabad district in the state ot Uttar Pradesh, are the founders of Bhendi Bazar Gharana
Since they hailed from Moradabad district, this Gharana initially was known as Moradabad gharana  In early 20th century these brothers migrated to Bombay, and made their home in the southern part of the town called, Bhendhi Bazar. Since the Governor of the state, the elite class, and rich tradesmen also lived in the same locatity, it was full of several activities.
These brothers when started giving their public performances and becoming popular, the listeners lovingly started referring to them as Bhendi Bazarwale Gayak (singers from Bhendi Bazar). Since then, the gharana founded by them has come to be known as Bhendi Bazar Gharana.
It is therefore not surprising that, with such a recent origin, the current performers of this Bhendi Bazar Gharana belong only to its 4th generation.
The gharana lineage shows that it is Ustad Aman Ali Khan who, with his several disciples, was mainly responsible in popularising the Bhendi Bazar Gharana. Sometimes, therefore, the gayaki ( style of singing ) of this gharana is referred to as Aman Ali Gayaki.
Characteristics:
Bhendi Bazar Gharana's style of singing, in many respects, is clearly distinct and different from several contemporary styles of North Indian Classical Music. The style typifies itself with delicate voice production and bewitching tonal inflections. It stands out with its high – degree rhythmic play, and the tonal arches and swara (note) sequences in it are so balanced and poised that one is reminded of the footwork of a skilled dancer. The bandishas (compositions), mostly composed by Ustad Aman Ali Khan, the doyen of the gharana, under the pen-name Amar, are rich in their literary and poetic content. The singer of Bhendi Bazar Gharana is constantly maintaining a clear and conscious balance between the grammar and aesthetics of music. Rendering of sargam (sequences of musical notes) with intricale laya (rhythmic) patterns and  weaving of taanas (note sequences in fast tempo) based on merukhand system, and with high degree of melodic content of pleasing permutations and combinations are some of the other distinctive hall-marks of Bhendi Bazar Gayaki
Notes by Daniel Schell, from Shaila Piplapure's biography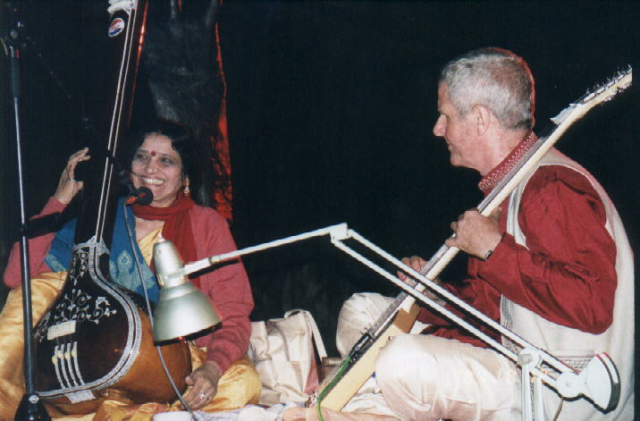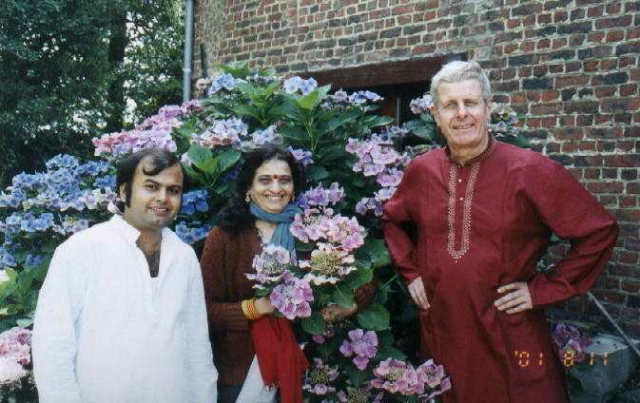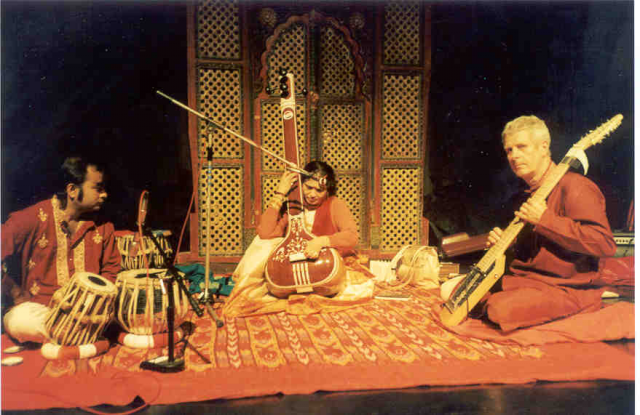 Shaila Piplapure accompanied by Daniel Schell (tiptar) and Sandip Banerjee (tabla).