Biography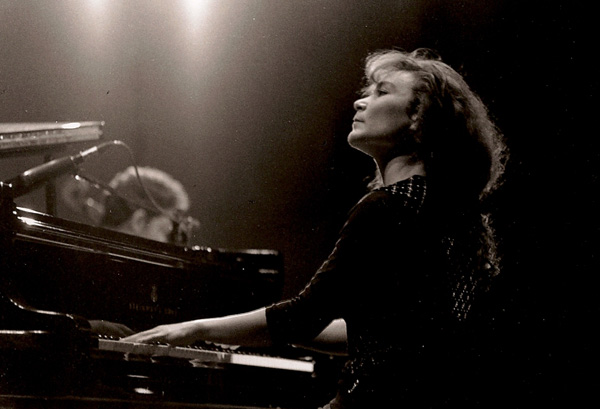 Alessandra lives in Tuscany (Italy). She is active as a solo pianist performer and also as a member of several chamber music groups. As a soloist she performed in more than 500 concerts all over the world for the main international Festivals in Europe. She recorded CD's on XXth century music either than works by contemporary composers for New Tone, Ema Records, Materiali Sonori, Inps (France), Warner, Indipendent Recording (Mexico). Alessandra's background is classical.. She is the music director of the Festival Musica 2000 and I Suoni del Fiume in Tuscany. She is chamber music lecture at "Arcangelo Corelli" Conservatorium of music in Messina (Sicily-Italy).
As part of Harmonia (Orio Odori clarinet, Damiano Puliti cello, Paolo Corsi percussions), she has worked for the Italian label Materiali Sonori since 1991 as a pianist, arranger and composer, exploring musical areas from minimalism to soundtracks, from Frank Zappa to Nino Rota. Harmonia performes in Europe, Mexico and is acclaimed by the main networks in Japan, United States and Europe as a cutting-edge chamber ensemble in the international cross-over music panorama.
Studies: She was awarded her piano degree in 1984 in Florence after studies with Paolo Rio Nardi and Gregoria Gobbi. She then travelled to Australia where she studied with Sonya Hanke before undertaking further studies in contemporary repertoire with Pascal Rogé, Giancarlo Cardini, Georgy Sebok and Ivan Moravec as well as classical repertoire and chamber music with Pier Narciso Masi. At Indiana University, Bloomington USA, she studied acting with Johanna Park, composition with J Meuhelsen, piano with Shigeo Neriky and chamber music with the Borodin Trio. Alessandra was supported throughout by scholarships and awards. Despite her classical training, Alessandra has always been interested in popular, folk and cross-over music.
She has collaborated with musicians belonging from the Popular music area such as the Kocani Orkestar, the iranian composer kamran Khacheh, the singer Francesca Breschi, the soundtrack composer Michael Nyman. She also met up and played together with Jazz international artists such as Enrico Rava, Giorgio Gaslini and Stefano Bollani. Naturally she always had a lot to do with her classical origins meeting people such as Harvey Sachs, Gavin Bryars, Pier Narciso Masi, Daniel Schell, Ugo Amendola. Many composers have written music for her. Her last solo piano discographic work is on Santini's Zodiacal Signes compositions (Ema Records2012, 4010).
She actually playes with Arcadia Sax Quartet. She is involved in several Festival and masterclass in Europe. For "Le Altre Note" festival she playes since 2010 with the finnish cellist Samuli Peltonen and violist Jouko Mansnerus, with Albatros trio and with the spanish clarinetist Inigo Alonso. She is now involved in the duo performance with the australian saxophonist Adam Simmons. Ema Records commissioned for 2014 a recording on Gaslini music where Alessandra will play with the flutist Stefano Parrino and Giovanna Marini quartet 's main voice Francesca Breschi.
excerpts:     
Tois façons de regarder le soleil:
– 01: Normal
– 02: En l'écoutant
– 03: En se brûlant